Duration : 10 Nights - 11 Days
Dibrugarh-Mon-Longwa-Tuensang-Mokokchung-Wokha-Kohima-Dimapur
Assistance on arrival and check into Hotel Little Palace. Evening local sightseeing. Overnight at Dibrugarh.
Morning drive to Mon (180kms 8hrs), the headquarter of the Konyak tribe who wear traditional dresses with feathered headgear and have tattooed faces. Enroute visit Wakching, a typical Konyak tribal village. Overnight at Mon.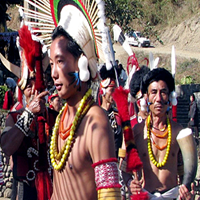 Shangnyu village, this village is ruled by the Chief Angh is a prominent village in Mon district. There is a wonderful wooden monument measuring 8 feet in height and 12 feet in breadth- believed to be constructed by heavenly angels. Human beings and other creatures are carved on this monument. Memorial stones are also found in front of the Angh's Palace. History records that good and friendly relationship existed between the Shangnyu and the Ahom Kings of Assam. Shangnyu Angh use to collect taxes from all the villages under his domain-extending from Sibsagar in Assam to the Wanchos in Arunachal.
After returning from Shangnyu village visit Mon Village, here also you will find tattooed Konyaks. Post lunch drive to Chui village situated about 8kms from the district headquarters of Mon. Chui village still retains its old world charm. One can see the Angh's mansion and other houses constructed in the true Konyak tradition with palm leaves roofing and the main pillars jutting out.
Overnight Mon.
Full day excursion to Longwa (45 km 9hrs) to see the Konyak tribes. Longwa is among the biggest village in the district. As the village straddles the international boundary line, one half of the Angh's house falls within the Indian territory and the other half lies in Myanmar. However, the whole village is controlled by the Angh and the village council Charirman. An intereseting feature of this village is that the Angh has 60 wives and his jurisdiction extends up to Myanmar and Arunachal Pradesh.
Morning drive to Tuensang (150kms 8hrs), the homeland of Chang Naga. Overnight at Tuensang.
Full day excursion to Noklak to see Khiamniungan tribe.
Day 07 Tuensang-Mokokchung :
After breakfast drive to Mokokchung (115kms 6hrs drive), This picturesque town is the cultural center of the Ao tribes. The Ao Nagas is famous for their colourful dances. Overnight at Mokokchung.
Day 08 Mokokchung-Touphema :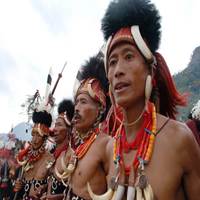 After breakfast drive to Touphema (120km 5hrs drive), Enroute visit Lothas tribal village, Lothas are known for their colourful dances and songs particularly Shanta, Tokhu Emong and Pikhuchak are their main festivals. The former takes place on the 7th November every year. Opvuram and Longpensu are their prestigious social shawls for women and men, respectively. Overnight at Touphema Tourist village, Touphema.
Kohima the state capital of Nagaland is situated at an altitude of 1444mts a beautiful town wide panorama views, you can have visit to Kohima village (Bara Basti) with a large traditional wooden gate decorated with the horns of buffalo representing bravery and valor of the Angami tribe, also visit IInd World War Cemetery, Museum & local market. Afternoon free to visit Angami villages. Overnight at Hotel Japfu, Kohima.
An excursion to Khonoma village, this village that lays 20km west of Kohima was known for its fighting prowess in the past. It is also known for the fallow management of its alder trees, which balances nature in the surrounding areas. The beautiful terraces that are carved out of the hill slopes surrounding the village are a sight to behold. These terraces grow over 20 types of paddy at different elevations.
Post Lunch visit Kohima village or Bara Basti encounter with Angami tribes, as you enter this village you notice a number of gates with traditional wooden gates with the scimitar of horns of mithun. These motifs indicate the bravery and valour of the Agamis. In the village, one comes across wooden carvings looking like horns atop some houses. One also sees relics of stone erections here and there in front of the houses, which are memorial symbols of the grand feasts offered by their ancestors. Evening free at colorful Bazaar. O/n Hotel.
Transfer to Dimapur For Flight To Kolkatta.