Delhi - Agra - Ranthambhore - Jaipur - Bikaner - Jodhpur - Udaipur - Balsinor - Mumbai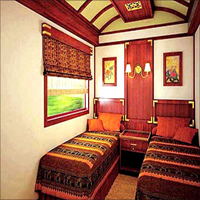 Welcome and check-in formalities at 8:45 pm at Delhi Safdarjung Railway Station followed by dinner on board. Train departs from station at 10 pm.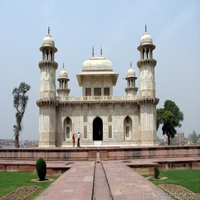 Early morning visit World Heritage Site of TajMahal, often described as poetry in white marble constructed entirely out of white marble and is an architectural masterpiece featuring beautiful inlay work and marble screens.The visit is followed by Champagne breakfast atop TajKhema gazing at the TajMahal.
Optional Tours
Visit Fatehpur Sikri.
Visit to Itmad-ud-Daulah.
Spa at a 5 star hotel
Private shopping tour
Return to the train for lunch.
Post lunch excursion to the mighty Agra Fort. Built in mid 16th century by the great Mughal Emperor, Akbar. This fort was the Seat of power of the Mughal Dynasty over the next 150 years. Return to the comfort of the Maharajas' Express by 6 pm OR you may watch Mohabbat The Taj Show as an optional activity
Dinner is served on board the Maharaja Express and train departs by 8:45 pm.
Day 03: Monday Morning:Ranthambore
On early morning arrival at Sawai Madhopur Railway Station proceed for excursion to Jungles of Ranthambhore - the private hunting ground of the Maharajas. Possible sighting of the elusive Royal Bengal Tiger.Also, sambar, chital, nilgai, chinkara, wild boar, sloth bear, hyena, jackal and leopard. Return to train by 9:30 and enjoy brunch on board. Depart onwards.
Day 03 : Monday Afternoon: Jaipur
Arrive in Jaipur by 1:45 pm and visit to 16th century built Amber Fort Palace, built in red sandstone and marble. it is beautiful on the inside and boasts of various buildings of prominence like the 'Diwan-i-Aam', the 'Sheesh Mahal' and even the 'SukhMahal'.
Optional Tours
Extend private shopping tour.
Visit to City Palace and JantarMantar (The Observatory).
Enjoy Golfing at the Rambagh Golf Club.
Spa facilities at a palace hotel.
At 5:30 pm, witness & you may also participate in an exhibition elephant polo match, followed by champagne dinner at Jai Mahal Palace hotel. Return to the station & board the train by 8:30 pm as it departs onwards.
Day 04 : Tuesday: Bikaner
8 am, enjoy countryside while having breakfast on board. Arrive at your destination by 10 am. relax on board or You may also choose optional activities such as visit to Lalgarh Museum OR Deshnok (the Rat Temple). Lunch on board, followed by visit to Junagarh Fort.
An unassailable fortress built in 1593 AD by Raja Rai Singh The fort is a formidable structure encircled by a moat and features numerous decorative halls. The Fort Museum is fascinating & adorned with ornate decorative costumes and jewelery .
Then you are escorted through the surrounding village for a rural experience. One of the exclusive events of the trips is sundowner in the sand dunes. Reach the spot in a convoy of decorated canopied camel carts accompanied by musicians. Enjoy cocktails, savour traditional mouth watering barbecue delicacies as you are entertained by traditional folk artists. Later return to comfort of your train and journey onwards.
Day 05 : Wednesday: Jodhpur
Enjoy 8 am, breakfast on board. Arrive at 9 am, make a choice to either rest on board or optional tour to Bishnoi village OR enjoy Spa facilities at a 5 star hotel. Lunch on board at 1 pm. Visit to the Mehrangarh Fort; admire the intricate latticed windows, elaborately carved panels, elegantly curved porches followed by a walking tour of the Clock Tower market, past some of the oldest houses and havelis.
At 6 pm, proceedfor an exclusive cocktail dinner at HanwantMahal.
Afterwards, return to the comfort of the Maharajas' Express and leave by 8:45 pm.
Day 06: Thursday: Udaipur
8 am breakfast on board and arrival at 'The Venice of the East', Udaipur by 10 am. Proceed for sightseeing of City Palace & Crystal Gallery. The largest palace complex in Rajasthan, with scalloped arches, fretted balconies, and cupolas.
1:30 pm lunch at atSatkar Hall of FatehPrakash Palace. Return to train at 2:30 pm for a relaxed afternoon OR continue for a shopping tour. You may also opt for the optional service like Spa facilities at a 5 star hotel or visit to Vintage Car Museum & Boat Cruise on Lake Pichola.
Return to the comforts of the Maharajas' Express at 6 pm and leave for Balsainor shortly. Dinner on board at 8 pm.
Day 07: Friday: Balasinor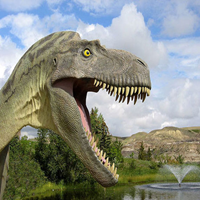 6:30 am, breakfast on board.
7:30 am, arrival onto Sevalia Station.
8:15 am, Depart for Dinosaur Fossil Park followed by Village Walking Tour.
At least 13 species of dinosaurs lived here, possibly for more than 100 million years until their extinction some 65 million years ago. The soft soil made hatching and protecting eggs easier for the animals. So well-protected are the fossilized eggs found here that many researchers call them the best-preserved eggs in the world.
11 am, visit to Garden Palace. Majestic welcome followed by lunch hosted by the Royal Family of Balasinor.
Return to the train by 2 pm and depart onwards.
Enjoy and 'Indian evening', followed by dinner on board.
Train arrives at Kurla railway station (LokNayak terminus), Mumbai by 0730 am in the morning Bid farewell to the Maharajas' Express after breakfast, by 815 am.
- Add Government Service Tax Extra, as applicable.
- Add US$ 500 Holiday Surcharge Extra per person for Tour Depart 27 Dec 2015 & 25 Dec 2016 Departs.
- Indian Nationals can pay in equivalent INR Rupees as prevailing rate of exchange.
Advice preferred date of journey with cabin type & number of passengers.
We require Name/Nationality/Date Of Birth/Passport Numbers of all the passengers to process booking request.
Booking will be confirmed on receipt of MINIMUM 30% advance deposit of Ticket Value.
Balance Payment must reach us at least 70 days before tour depart.
Booking request made less than 70 days before tour depart ,will be confirmed on receipt of one time full deposit of ticket value.
To issue Travel documents ,we require Passport Copy of all passengers & Reservation Form.
Advice interest to Book Hotels in New Delhi & Mumbai or customized package tours pre/post train tour journey.
Passengers are advised to pre-book Tour Insurance from country of origin of travel
(a) Royal Indian Trains is PSA-IA of Maharajas' Express operated by IRCTC; & our liability is limited to that of Booking Agent Only.
(b) All requests for cancellation must be made in writing & acknowledged by us.
(c) Minimum 30% of ticket value will be charged as cancellation fee if booking cancelled > 65 days before tour depart
(d) Minimum 50% of ticket value will be charged as cancellation fee if booking cancelled between 64 days to 50 days before tour depart
(e) Full 100% of ticket value will be charged as cancellation fee if booking cancelled < 49 days before tour depart
(f) Request for Change in Passenger Name/Journey Date as per IRCTC policy
(g) All overseas refunds ,as per cancellation policy are subject to rules & regulations of Reserve Bank Of India
(h) Royal Indian Trains reserves the right to deduct US$ 100 bank processing fee to process overseas funds & will be refunded in equivalent INR Rupees as per amount received.