Mumbai - Ajanta - Udaipur - Jodhpur - Bikaner - Jaipur - Ranthambhore – Fatehpur Sikri-Agra - Delhi
Day 01: Saturday Afternoon: Mumbai
Report by 2pm at The TajMahal Palace Hotel, Mumbai where registration and check in formalities are completed for Maharajas' Express Train Tour. Following this, travelers are transferred to ChhatrapatiShivaji Rail Terminus. Board the Maharajas' Express & depart from Mumbai by 5pm.
Dinner on board and overnight on Maharajas' Express.
Day 02 : Sunday: Ajanta Caves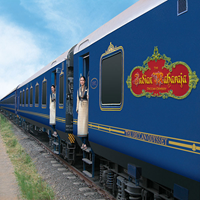 After breakfast on board,excursion to World Heritage site of Ajanta Caves from Jalgaon Railway Station. These Buddhist cave temples date were sculpted out of hill sides between 2nd century BC to 7th Century AD & famous for colorful frescoes executed On a ground of mud plaster in the tempera technique, showing incidents from life of Lord Buddha & the Jatakas.
Later return to the train & depart. Lunch & dinner on board.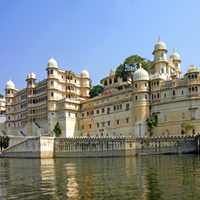 Arrive early morning in Udaipur - the City of Lakes and also referred to as Venice of the East. Post breakfast, disembark train as the journey begins with the visit to the City Palace (the largest palace complex in Rajasthan, with scalloped arches, fretted balconies, and cupolas) Visit to MorChowk and see lavish mosaics of peacocks, and then proceed to MotiMahal that has beautiful mirror work. There's also ChiniMahal that is covered in ornamental tiles & Visit to spectacular ZenanaMahal exquisitely designed alcoves, balconies, colored windows, tiled walls and floors are seen. Visit crystal gallery that has a jewel studded carpet. Experience royal hospitality at Durbar Hall which is reminiscent of ancient Mewar glory. Feast your taste buds over vast spread of International cuisine at Satkar hall of FatehPrakash Palace.
Following lunch, return to train for relaxed afternoon on board & later depart for Jodhpur. Dinner on board.
Afternoon Optional tours:
Walking tour through the colorful and vibrant Old Market.
Visit the Vintage car collection of the royal family.
Enjoy spa facilities in 5 star hotel.
Enjoy leisure breakfast as Maharajas' Express train passes through some of dramatic landscapes of Thar Desert, arriving into Blue City of Jodhpur. Following lunch, disembark & explore erstwhile capital of Marwar - Jodhpur which is set like jewel amidst golden sands and is famous for its magnificent forts and palaces from Rajput era. Proceed on a walking tour of Old Clock Tower market and then visit to the magnificent Mehrangarh Fort and admire the intricate latticed windows, elaborately carved panels and elegantly curved porches. Highlight of the day is Royal Cocktail evening with wide array of sumptuous Marwar culinary delights that are served in Royal courtyard of Mehrangarh Fort as you admire cityscape from atop Return to train and continue journey.
Optional Morning Tour in Jodhpur
Relax on board.
Jeep Safari excursion to a nearby located Bishnoi village-traditional eco farmers.
Spa facilities at 5 star hotel.
Day 05: Wednesday: Bikaner
Enjoy countryside while having breakfast on board. Arrive into Bikaner. At 10 am, relax on board or You may also choose optional activities such as visit to Lalgarh Museum OR Deshnok (the Rat Temple). Lunch on board, followed by visit to Junagarh Fort. An unassailable fortress built in 1593 AD by Raja Rai Singh The fort is a formidable structure encircled by a moat and features numerous decorative halls. The Fort Museum is fascinating & adorned with ornate decorative costumes and jewelery . Then you are escorted through the surrounding village for a rural experience. One of the exclusive events of the trips is sundowner in the sand dunes. Reach the spot in a convoy of decorated canopied camel carts accompanied by musicians. Enjoy cocktails, savour traditional mouth watering barbecue delicacies as you are entertained by traditional folk artists. Later return to comfort of your train and embark on onward journey to Jaipur Overnight on the Maharajas' Express.
Enjoy breakfast on board and arrive into the Pink City – Jaipur at 11 am. Proceed for one of the exclusive Maharajas' experience of exhibition Elephant Polo Match followed by champagne lunch at City Palace. Following lunch, visit Amber Fort, situated on a small hillock and overlooking Maota Lake and has a Chamber of Mirrors (Sheesh Mahal), and the Hall of Victory. Afternoon optional tour in Jaipur
On completing tour of Amber you will have opportunity to shop for some of finest jewelery, textiles and blue pottery the city is renowned for The other option besides this is participation in one of optional tours like enjoying spa facilities at palace hotel or proceed on private shopping tour or enjoy Golfing at Rambagh Golf Club.
Day 7: Friday Morning: Ranthambore
On early morning arrival at SawaiMadhopur Railway Station proceed for excursion to Jungles of Ranthambhore - the private hunting ground of the Maharajas. Possible sighting of the elusive Royal Bengal Tiger.Also, sambar, chital, nilgai, chinkara, wild boar, sloth bear, hyena, jackal and leopard. After breakfast at a Vivanta by Taj, SawaiMadhopur, return to the train and continue onwards. Lunch on board.
Day 7: Friday afternoon: FatehpurSikri
At 2:30 pm, arrive at FatehpurSikri and proceed for excursion to the deserted Mughal City, comprising of imposing gateways, Halls of Private and Public audience and beautifully sculptured palaces. Return to the train by 6 pm and enjoy a special Indian evening followed by dinner.
Day 8: Saturday Morning: Agra
Early morning, 6:30 am, excursion to one of the wonders of the world,TheTajMahal; constructed entirely out of white marble and is an architectural masterpiece featuring beautiful inlay work and marble screens. This is followed by another exclusive event, champagne breakfast at TajKhema, overlooking TahMahal, atop a hillock. Later return to the train and depart by 10:15 am.
Day 8: Saturday Afternoon: Delhi
Lunch on board. Reach the capital by 3:15 pm and check out and the magical journey comes to and end.