Duration : 4 days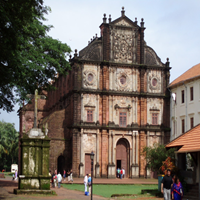 Transfer to the airport to connect flight to Goa. Upon arrival, the guests will be met & transferred to the hotel.
GOA - It's 450 years under Portuguese domination produced a unique, syncretic blend of East and West. Rest of the day at leisure.
Dinner and overnight at hotel .
Fullday sightseeing our Goa - Visit Old Goa, the most important Cathedrals and churches - namely Se-Cathedral, Church of St. Francis Xavier, St. Catherine's Church, Arch of Vice Roy of Goa. Miramar Beach - This is the only beach close to any city and has a good view of the river Mandovi flowing into the sea. Also visit Dona Paula fishing village which is a small village at the tip of Panaji, the place has a very good viewpoint and a monument at the same place. Overnight at hotel
Full day at leisure for own activities and to enjoy the facilities of the resort. Dinner & overnight at the hotel
Transfer to the airport for flight to Delhi or Mumbai
For most of the people heading towards Goa, it is one long beach. But once they are there they realize this folly of them. Goa is a state though a small one and there is a large number of beaches, many towns and a good network of roads. It is a state of seven rivers and their estuaries, there are hills with lush green vegetation, and most of the tourists are needed to cover large distances to move from one place to other. Goa has a total coastline of 125 km and that makes people believe that it is a long big beach however illusionary it is.
Beaches of Goa are much ahead of other beaches in India in terms of popularity and the facilities that are available here. The beaches here have been accepted as a matter of life, there are exotic cuisine backing the pleasure of have on sun and sand, and water sports facilities that include from water scooters to water gliding. To add on you can shake your legs for some time with a glass of feni and beer, engaged in shopping on the beachside, or have midnight bonfire on the beach.