Delhi - Agra - Ranthambhore - Jaipur – Delhi
Day 01: Wednesday Night: Delhi
Report by 830 p.m. at Safderjung Railway Station for royal welcome & after check-in formalities board the 3 Nights Maharajas' Express epic train journey Train departs by 10 p.m. from Delhi. Dinner on board.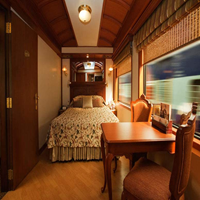 Early morning visit World Heritage Site of TajMahal, often described as poetry in white marble; An architectural marvel.The visit is followed by Champagne breakfast atop TajKhema gazing at the TajMahal.
Optional Tours
Visit Fatehpur Sikri.
Visit to Itmad-ud-Daulah
Return to the train for lunch.
Post lunch excursion to the mighty Agra Fort. Built in mid 16th century by the great Mughal Emperor, Akbar. This fort was the Seat of power of the Mughal Dynasty over the next 150 years. Dinner is served on board the Maharaja Express.
Day 3: Friday Morning: Ranthambhore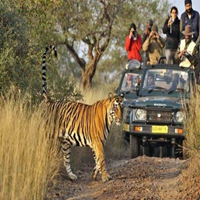 On arrival at SawaiMadhopur Railway Station proceed for excursion to Jungles of Ranthambhore - the private hunting ground of the Maharajas. Possible sighting of the elusive Royal Bengal Tiger.Also, sambar, chital, nilgai, chinkara, wild boar, sloth bear, hyena, jackal and leopard. Return to train by 9:30 and enjoy brunch on board. Depart onwards.
Day 03: Friday: Afternoon: Jaipur
On arrival in Pink City of Jaipur, afternoon excursion to 16th century built Amber Fort Palace.
Optional Tours
Private shopping tour.
Visit to City Palace and JantarMantar (The Observatory).
Enjoy Golfing at the Rambagh Golf Club.
Spa facilities at a palace hotel.
This is followed by an exhibition Elephant Polo Match & Champagne Dinner at an exclusive location. Return to train afterwards.
- Add Government Service Tax Extra, as applicable.
- Add US$ 500 Holiday Surcharge Extra per person for Tour Depart 27 Dec 2015 & 25 Dec 2016 Departs.
- Indian Nationals can pay in equivalent INR Rupees as prevailing rate of exchange.
Advice preferred date of journey with cabin type & number of passengers.
We require Name/Nationality/Date Of Birth/Passport Numbers of all the passengers to process booking request.
Booking will be confirmed on receipt of MINIMUM 30% advance deposit of Ticket Value.
Balance Payment must reach us at least 70 days before tour depart.
Booking request made less than 70 days before tour depart ,will be confirmed on receipt of one time full deposit of ticket value.
To issue Travel documents ,we require Passport Copy of all passengers & Reservation Form.
Advice interest to Book Hotels in New Delhi & Mumbai or customized package tours pre/post train tour journey.
Passengers are advised to pre-book Tour Insurance from country of origin of travel
(a) Royal Indian Trains is PSA-IA of Maharajas' Express operated by IRCTC; & our liability is limited to that of Booking Agent Only.
(b) All requests for cancellation must be made in writing & acknowledged by us.
(c) Minimum 30% of ticket value will be charged as cancellation fee if booking cancelled > 65 days before tour depart
(d) Minimum 50% of ticket value will be charged as cancellation fee if booking cancelled between 64 days to 50 days before tour depart
(e) Full 100% of ticket value will be charged as cancellation fee if booking cancelled < 49 days before tour depart
(f) Request for Change in Passenger Name/Journey Date as per IRCTC policy
(g) All overseas refunds ,as per cancellation policy are subject to rules & regulations of Reserve Bank Of India
(h) Royal Indian Trains reserves the right to deduct US$ 100 bank processing fee to process overseas funds & will be refunded in equivalent INR Rupees as per amount received.